Eligibility
AWWA School @ Napiri serves children and youths between 7-18 years old, with Autism Spectrum Disorder and/or multiple disabilities.
AWWA School @ Bedok serves children and youths between 7-18 years old, with Autism Spectrum Disorder.
For applicants holding Permanent Resident (PR) status and Foreigner status (International Students), consideration for admissions to AWWA School will take place after all other Singapore citizens are placed.
How to Apply
All applications must be submitted online via the Ministry of Education's website at https://go.gov.sg/spedschoolapplicationform.
Alternatively, you may scan the QR code here: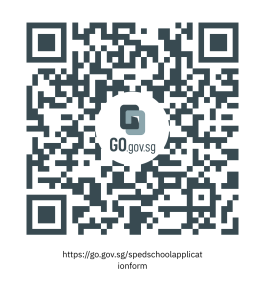 Before you begin the application online, you will need to prepare these required documents:
1. Section I: SPED School Application Form Parent Report, with the following supporting documents:
Copies of applicant's birth certificate, including Re-entry Permit (for Singapore PRs)

Copies of applicant's deed poll (if applicable)

Copies of parent(s)/ legal guardian(s) identity card(s)

Copy of certificate of legal guardianship (if applicable)

Diagnostic report (for applicants diagnosed with autism spectrum disorder)
2. Section II: School Reports 
3. Section III: Medical Report (completed by a certified medical doctor)
4. Section IV: Psychological report 
For more information on the application process for Special Education Schools, you can refer to MOE's website here: https://www.moe.gov.sg/special-educational-needs/apply
School Fees & Subsidies
School fees are $86 per month for Singapore citizens.
Financially needy families can approach the school social workers for more information on financial assistance schemes available.