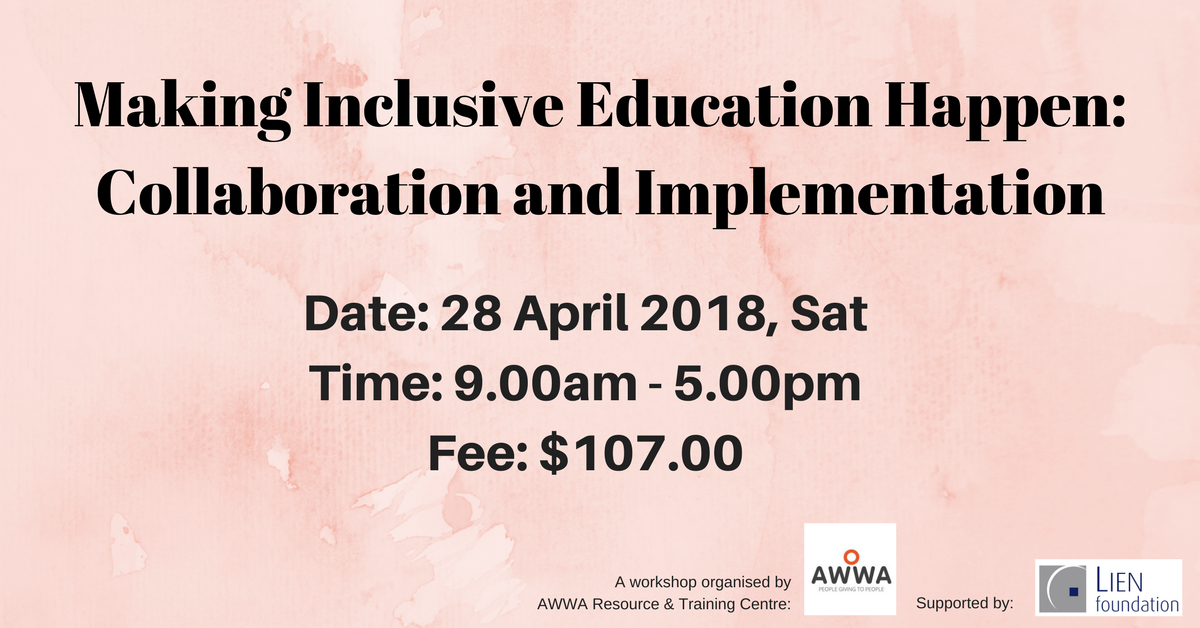 Making Inclusive Education Happen: Collaboration and Implementation
An inclusive school is one that supports the needs of all learners (children with disabilities and typically developing children) and systematically works to ensure that all children participate, belong, and feel like a member. For over 50 years, research on building inclusive education has been driving practice to achieve the vision of a world where children of all abilities learn, play, and grow together. Translating this vision into reality requires that we create environments in which children of all abilities can participate successfully in valued routines, rituals and activities.  Through this participation we help children become members of the community, develop meaningful relationships, and develop the skills that they need to be successful in school, home, and in the community.
The workshop aims to outline the beliefs that support inclusive education and provide concrete suggestions to educators, students  and support professionals about strategies that they can implement to make inclusion a reality. During the workshop, participants will engage in facilitated learning of strategies that promote inclusion through case studies, group discussions etc. culminating in action planning for implementation of the strategies in their settings.
Learning outcomes:
Underpinning values and belief systems that support inclusion
Environmental and activity adaptations to support inclusion in the classroom
Classroom strategies for inclusive practice
Target participants
Educators and support professionals from preschool, mainstream school and early intervention settings
Therapists, psychologists and other allied health professionals who support children with disabilities in inclusive settings
About the Trainer
Dr. Ilene Schwartz is a professor and chair in the Area of Special Education at the University of Washington and the Director of the Haring Center for Research and Training in Education at UW.  She earned her Ph.D. in child and developmental psychology from the University of Kansas and is a board certified behavior analyst (BCBA-D). Dr. Schwartz has an active research and professional training agenda with primary interests in the area of autism, inclusive education, and the sustainability of educational interventions.  She has had consistent funding from the U.S. Department of Education since 1990 and serves on a number of editorial review boards including the Topics in Early Childhood Special Education and the Journal of Early Intervention.  Dr. Schwartz is the director of Project DATA, a model preschool program for children with autism that has been in operation since 1997; and is currently involved in research projects examining the efficacy of the Project DATA model with toddlers and preschoolers with autism.
Dr Schwartz is the key note speaker and panelist for the inaugural Early Intervention Conference happening on 27 April 2018. Themed Today's Vision Tomorrow's Reality, the conference focuses on building an inclusive education landscape in Singapore.