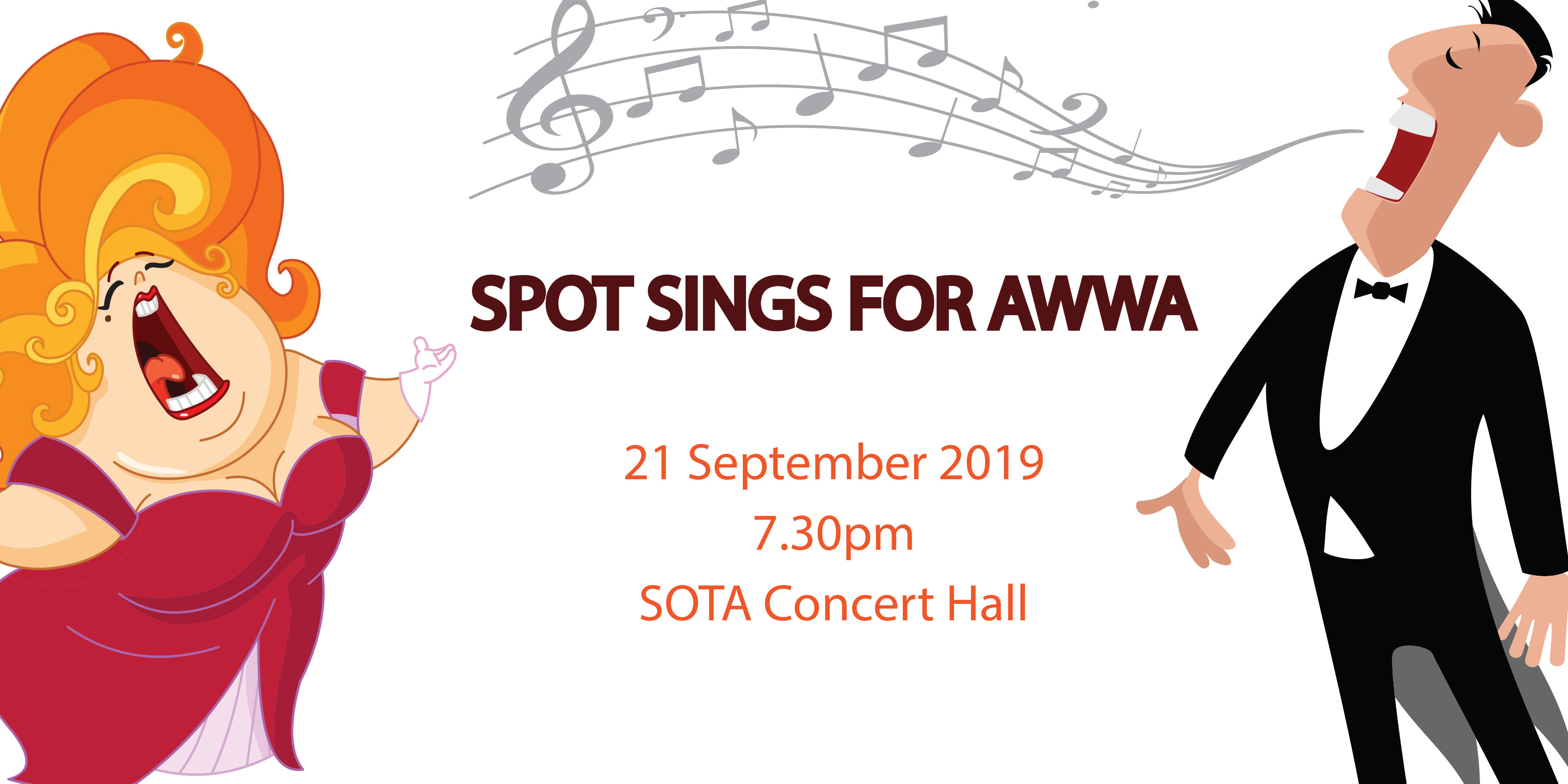 Annual Fundraiser – SPOT Sings for AWWA
We warmly invite you to support our annual fundraiser, SPOT sings for AWWA – a musical performance featuring songs from classical opera, stage musicals and art songs., held on Saturday, 21 September 2019 at the School of the Arts Singapore (SOTA) Concert Hall. You can contribute by purchasing tickets for your family, friends and/or AWWA clients or by making a cash donation. The proceeds from this event go towards providing value-added services to our clients.
About AWWA
Delivering care to over 10,000 clients, AWWA has been contributing to the needs of the disadvantaged in Singapore since 1970. Services include early intervention for pre-schoolers, education and disability support for children with special needs, assistance to low income families, caregivers, and health and social assistance for vulnerable seniors.
About SPOT Sings for AWWA
Performing for AWWA on that night will be the Spot Pocket Opera Theatre ('SPOT'). SPOT is a not-for-profit organisation. It consists of a team of barrier- and rule-breaking classical opera singers, musicians and creatives who are passionate about bringing their music to the general public. SPOT seeks to share classical music in traditional as well as unconventional and refreshing ways. In addition to performing at venues such as the Esplanade, SPOT has also performed in the heartlands and in business and shopping districts in Singapore.
SPOT performers comprising sopranos Evelyn Ang, Charmaine Tan and Felicia Teo, and tenor Jeremy Koh will be joined by tenor Laurence Chan.
Our singers have worked hard to bring their passion for music and people together to organize this one-night-only concert. By supporting this concert, you will help AWWA serve over 10,000 beneficiaries.
Click here for the SPOT Sings for AWWA Sponsorship Form, or feel free to contact Cheryl Pui at 6511 5214 or cheryl_pui@awwa.org.sg for more information.
Purchase your tickets via the payment options provided below.
Tickets & Packages
(Online Payment)Tickets & Packages/Donation
(By Cheque)One-Time Donation
(Online Payment)